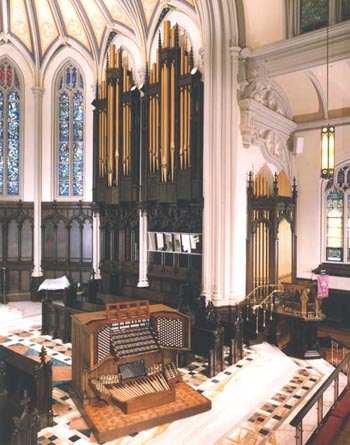 English Evangelical Lutheran Church of the Holy Trinity,
aka Holy Trinity Lutheran Church, Buffalo, NY
Kegg Organ Builders, completed 1997
Originally M.P. Moller Co. 1948, expanded to 152 ranks, two consoles

I now belong to this congregation and have the distinct pleasure of hearing and singing along with this magnificent organ every Sunday. The organ actually consists of two separate organs, the chancel and gallery organs, and has two consoles. The main five-manual console is on the chancel and can be moved into a concert position as shown in the photo. There is a three-manual console in the balcony gallery organ, but through piston settings the entire organ can be played from the gallery console.

It took me over five years to summon the courage to ask the organist of Holy Trinity for time at the console of this glorious instrument. On May 15, 2007, I finally had a seat on the bench and thoroughly enjoyed over an hour of uninterrupted delight. One hour does not an expert make on an organ of this magnitude, so I plan on heading back there... often!

Here's a few things I have recorded there on various visits:

Helmsley, "Lo He Comes With Clouds Descending"
Aurelia, "The Church's One Foundation"
Diademata, "Crown Him with Many Crowns"
Liebster Jesu, "Dearest Jesus, We are Here"
Bach's (little) Prelude & Fugue in C, BWV 553
Bach's Ich ruf' zu dir, BWV 639

Photo stolen from Kegg Organ Builders web site.
See the complete specification of this organ.